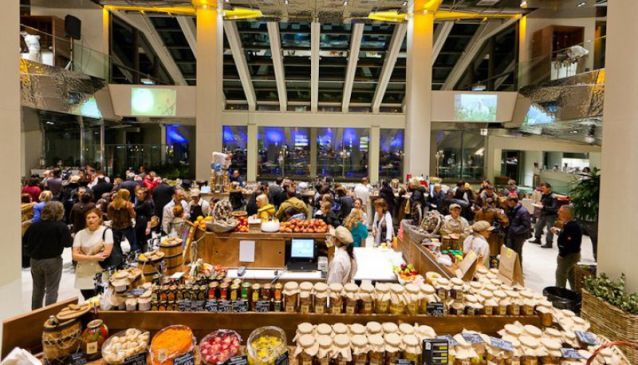 Ginza Project - St Petersburg's Restaurant Tsars
Food & Drink
A few days in St Petersburg, and you will at some point find yourself eating in a Ginza Restaurant
Until recently, Russian 'foodies' would claim with some pride, per capita sushi consumption was higher in Moscow and St Petersburg than in Tokyo. Well something has to explain the remarkable figures of a lot of the young ladies you'll see here, it's true. But after just a couple of days eating in either city, you'll soon start to see what lies behind this remarkable claim. Somewhere around the early years of the new century, Russian diners fell in love with sushi in a big way. Sushi restaurants sprouted up on every corner, and other restaurants started to get in on the act too – you could order sushi with your khachapuri at a Georgian restaurant, as a side dish with your Quattro Staggioni at your local pizzeria, or even with your morning coffee at the corner café.
Knowing an opportunity when they saw it, two friends from St Petersburg with no previous background in running restaurants decided to risk everything and open up a chain of 'democratic' (i.e. low cost) but high quality sushi restaurants. Dmitry Sergeev had done a few deals in real estate and understood the importance of 'location' to attract people to a restaurant. Vadim Lapin's earlier business was importing shoes and footwear from Italy, so he understood the importance of design and quality. The restaurant chain they created was called initially Yaposhka but later renamed to Yaposha. In keeping with the eclectic choice of dishes Russian consumers demanded, they kept some Russian standards on the menu such as borsch for those who hadn't yet been converted to the raw fish and seaweed craze – hence their strapline, 'Sushi-Antisushi'. The restaurant was an immediate success, and spawned a whole chain that now numbers around 50 restaurants in Moscow and St Petersburg.
Not long after the opening of the first Yaposha, the friends decided to open their first 'concept' restaurant. Ginza, named after a district of Tokyo was opened on Aptekarsky prospekt in 2003. It continued the sushi-lovers theme but took it a step further, providing what the typically florid restaurant publicity describes as 'a deserving example of European vision of traditional Japanese cuisine'. In the years since, the company (now named Ginza Project) has developed rapidly with a growth rate surely unparalleled in restaurant history, involved in 46 conceptual restaurants in Moscow, St Petersburg, Rostov-na-Donu, New York and London, and approximately 12-15 new openings per year.
Chances are high that even if you spend just a few days in St Petersburg, you will at some point find yourself eating in a Ginza Project restaurant. The original restaurant has some of the characteristics which have now become signature features of subsequent Ginza Project openings. An unusual menu (often an over-sized newspaper or magazine with full colour photos of many of the dishes); a post-modern range of cuisines, from sushi to pan-Asian to pizza to Russian to French, regardless of whether the individual restaurant's theme is Mediterranean, European, Caucasian, or Asian; an outside deck area for the summer, or a terrace with a spectacular view over a local landmark; interiors of large, open spaces contrasted with slightly kitsch interior design furnishings, such as shelving with books or jars of ingredients, ornate brass chandeliers and lighting fixtures, and lots of hanging fabric. Other signature features include open kitchens, in-restaurant stores selling ingredients, and, increasingly, business partners.
Ginza Project has several restaurant projects it shares with local celebrities and socialites. These include restaurants in Moscow with Ksenya Sobchak (daughter of former St Petersburg mayor Anatoliy Sobchak, previously known as the Russian Paris Hilton, hostess of a reality TV Big Brother-type programme and now taking a prominent role in the opposition demonstrations), Vasiliy Tseretli (director of Moscow Museum of Contemporary Art and grandson of famous artist and sculptor, the ethnic Georgian Zurab Tsereteli), and St Petersburg born TV host, film actor, musician and comedian Ivan Urgant. But the partnership which must bring most professional pride, the icing on the cake if you will, must be their recent ventures with Moscow-based Arkadiy Novikov, arguably Russia's most prominent and successful restaurateur whose high profile fashionable conceptual restaurants dominate the capital's restaurant scene. Francesco, located on Suvorovskaya ulitsa in St Petersburg, is the first joint project of the giants of the Russian restaurant scene, and is where local football champions Zenit's Italian coach likes to dine.
It hasn't all been plain sailing for the company, although to date the setbacks have been relatively minor. The rebranding of Yaposhka to Yaposha cost over $2 million and is rumored to have been made at the request of the Japanese embassy, who considered that the original name had a slightly racist association. And the economic crisis of 2008-2010 saw a general decrease in the middle market segment that contributed to the company's decision to close the Samara branches of Yaposha. But the company managed to continue its fast pace of growth in its conceptual restaurants, opening 19 in Moscow and St Petersburg in 2009 alone, and began the first phase of its international expansion with restaurant openings in New York and projects soon to come to fruition in Washington DC, Miami and London.
So what does the future hold for this restaurant behemoth? Conscious of consumer trends and the interests of their chefs, many of the restaurants are switching to a policy of purchasing local produce as far as this is possible. Ginza Project is also looking to extend its success in the restaurant world into other areas where their trademark design, quality and service expertise can be applied. The company now has a number of associated businesses including a premium gym, concierge service, dog-grooming salon, upmarket dry-cleaners, catering company, and farmers market produce store. In the past year the company has sold its Moscow-based Yaposha restaurants and has been reported to be in discussions with Burger King over an exclusive franchise agreement, as the US burger chain has only recently entered the Russian market. Next in line is the opening of a boutique hotel on Pochtamtskaya ulitsa, in the center of St Petersburg, with interior design by D&G.
So it's probably only a matter of time until Ginza Project becomes a household name in Europe and the States, the way it is becoming in Russia. So why not see how many of their restaurants you can visit during your trip to the city?