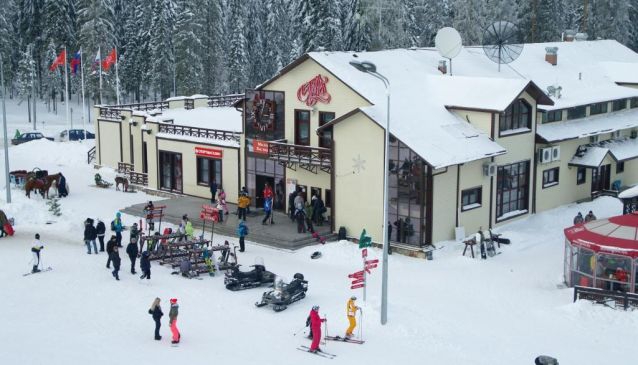 Winter Sports Wonderland
Seasonal Celebrations
If downhill skiing is your thing, there are several resorts with natural and artificial hills ...
One thing long-term residents of colder climates soon learn to do is embrace the winter months. When winter lasts for months and is as severe as here in Russia, there's no point in sitting around indoors waiting for spring. That said, winter of 2011-2012 didn't start until quite late, and of the 20 or so urban outdoor skating rinks only about half had opened by the middle of January due to the mild weather conditions. If you're looking for attractions in St Petersburg between December and March/April (depending on weather conditions), you should search for opportunities to do as the Russians do, head outdoors to the nearest park, strap on the skates or skis and head off into the winter wonderland!
Fortunately you don't have to go far to find such opportunities. Within the city there are a number of picturesque opportunities to strap on your skates and reveal your hidden Torville or Dean. In the winter months, there open a number of ice skating rinks in St Petersburg's city squares, and all provide skate hire for a small fee plus deposit. The easiest to reach, and possibly the most picturesque, is the rink at Ostrovsky Square, right on Nevskiy prospect and located in front of the Aleksandrinksy Theatre, below the ever-watchful gaze of the empress Catherine the Great. The rink is located in the center of a huge winter market, which sells all sorts of Christmas and New Year themed arts and crafts. If you're clever, you can get all your Christmas shopping done in a single go, and then head to the skating rink for a few circuits before retiring to one of the kiosks for a warming mug or two of mulled wine, known here by its German name of Gluhwein. Tickets are sold for a 50 minute session and can sell out quickly so try to purchase a bit in advance if you can.
Also in the center of the city, the Tavrichesky Park has a small artificial rink and a number of small hills which become mini-luge tracks and are hugely popular with local children. But more appealing still is the boating lake which winds around the north-eastern part of the park and, when the weather is right, turns into one large ice rink. Bear in mind though that to ice skate on natural ice is not for the beginner – there's a reason artificial rinks are so smooth, as they are serviced every hour or so by an ice-smoothing machine. Natural ice can be rough and bumpy, and therefore requires more advanced skating skills than most of us can claim.
A little further out of the city center, Park Pobedy to the south, and Yelagin Park to the north (both easily accessible by metro) have extensive skating rinks and opportunities to practice your cross-country skiing. In addition to its artificial rink, Yelagin Park sometimes freezes all the paths between the grassy areas to allow you to skate through the trees. This was always a popular option in parks across the country but is becoming less common now, but if you have the opportunity you should definitely try it.
If the winter is cold enough for the canals to freeze over for more than a few days, then you'll soon start to see locals and the braver tourists enjoying the novelty of a walk not along the canal, but on the canal, a favourite seasonal St Petersburg event. Often local kids will clear a patch of ice to create a make-shift ice-hockey pitch where they can practice their skills – ice hockey being one of the country's most popular sports, for obvious reasons. Use common sense if heading onto a canal, only go where the locals go as they will know best where the ice is thickest.
One place you can go skating whatever the weather is the massive Gazprom stadium at Tavrichesky Park, which provides all sorts of ice-related opportunities such as ice hockey, figure skating, a fitness center, ice spectaculars, skate sharpening and, for those who just can't get enough skating, their popular Friday and Saturday all-night skating, open from 10 in the evening until 5 the following morning!
If downhill skiing is your thing, there are several resorts with natural and artificial hills within a short drive of the city. Perhaps the best equipped and most spectacular is the resort of Igora, about an hour's drive north east of the city, located at the highest point of Leningradskaya oblast and therefore offering the most reliable snow conditions. The scale and ambition of this resort is second to none. It opened only in 2005, but offers 10 downhill runs 120 meters in elevation and 1210 meters in distance, 7 ski lifts, excellent restaurant and dining facilities, 51 hotel rooms, 26 two-storey cottages for rent, a spa and swimming pool complex, massage therapies, banya, fishing, bowling, cinema, conference facilities, and has ambitious plans to continue to expand. If you have the time, it's worth trying to spend a couple of days here to take advantage of all the activities on offer.
Loved this account of St. Petersburg ice skating? You may find the following useful!
Keep fit in St. Petersburg
Places to eat in St. Petersburg
Where to shop in St. Petersburg