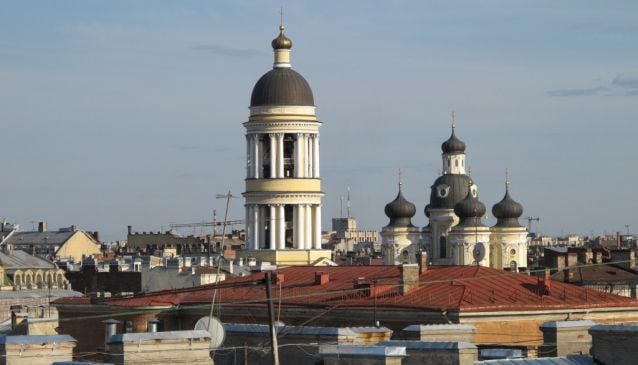 The Rooftops of St Petersburg
Adventure
There is a certain amount of risk involved heading out on one of these unique sightseeing tours...
There are several informal groups that offer the kind of St. Petersburg tours seen in the video that accompanies this article. Prices are usually around RUB 1500 for two people, and excursions last approximately 1.5 hours. As these excursions are not official (meaning that although quite widespread, they are not strictly speaking legal) advertising is naturally kept low key. One group advertises on stickers you'll find displayed along Nevsky Prospekt, one via stencilled adverts on pavements in the center, and a couple of others with pages on Vkontakte, Russia's largest social network. If you can't find a contact then let us know and we can pass on some details. Once you have a number, you can call up and agree a time and place to meet. Ideal weather conditions should be dry and not too windy. Advance notice is not always required, especially as the changeable weather conditions can make booking more than a few hours ahead something of a gamble.
There is a certain amount of risk involved heading out on one of these unique St. Petersburg sightseeing tours. Wear sensible clothes and shoes with a good grip. Keep personal items to an absolute minimum. Be discreet in your clothing and behaviour, and keep loud conversations and laughter to a minimum. And if you don't have a head for heights then seriously consider whether this is how you want to be spending your time and money. The guides will not take you anywhere they haven't vetted previously, however conditions can change at short notice. But if you are relatively fit and flexible, have a sense of adventure and a desire to see the sights from a unique perspective, then a rooftop tour in St. Petersburg will be a memorable and enjoyable highlight of your visit to the city.

Love Tim's account of rooftop tours in St. Petersburg? You might find the following useful!
Where to shop in St. Petersburg
The best nightlife in St. Petersburg
Things to do in St. Petersburg