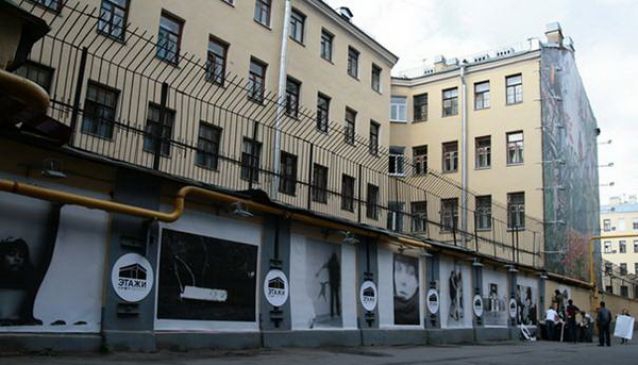 Contemporary Art in St Petersburg
Arts & Culture
Recently new contemporary art museums and galleries have opened across the city of St Petersburg
For a brief period in the early 20th century, Moscow and St Petersburg/Petrograd/Leningrad stood alongside Paris and Berlin as some of the most important incubators of a revolutionary new artistic movement, the avant-garde. The movement soon splintered but elements managed to survive the revolution and civil war which followed, only to morph into a new aesthetic: socialist realism, created to meet the objectives of the new society of which it was now a part. Soviet art was directed by party functionaries from Moscow. With few exceptions, the country's public artistic endeavours gradually calcified; anything innovative and not officially approved was driven underground or abroad.
Most people would agree that since the end of Soviet rule it is Moscow that has dominated Russia's cultural landscape, although today the reasons for this are economic rather than political. In contemporary art terms the sheer number and scale of its galleries is unrivalled, and landmark projects such as Strelka, Garazh and Winzavod look set to extend this dominance still further.
But something is happening to St Petersburg culture which may be about to challenge Moscow's pre-eminence. The last few years have seen a whole slew of new contemporary art museums and galleries open up in venues across the city, perhaps seeking to capitalize on its proximity to Europe, its cultural and historical appeal, and the huge numbers of domestic and international visitors who arrive each year. Since the turn of the 21st century, about a dozen or so new institutions have been founded, many by local businessmen keen to diversify their interests, create a legacy and to give something back to their home city. September 2010 was surely the high-point of this trend, when not one but two contemporary St Petersburg art museums – Erarta and Novy (New) Museum - both opened on Vasilievskyostrov that month.
What is behind this sudden northern renaissance?
"There was a sudden energy, but of course these institutions do not just appear overnight. They are often the result of a natural process which gathers pace over many years. For a long time there was a lot of talk in the city about the need for a contemporary art space. When public sector initiatives failed to materialize, the private sector stepped in," says Mikhail Ovchinnikov, director of Erarta Museum of Contemporary Art on Vasilievsky ostrov.
Erarta's mission is to collect, exhibit and popularize original contemporary St Petersburg art and, increasingly, from regions across the country. One of the reasons the city attracts some 5 million visitors a year is the fact that its historical centre remained largely unspoiled by the ravages of the 20th century, with all its revolutions, civil war, Nazi bombardment, even Soviet town-planners. The city's inhabitants consequently see themselves as proud and stubborn defenders of a unique aesthetic legacy and customs. "The city has its own artistic schools and traditions which developed over the 20th century, independent of what was coming out of Moscow. It's a harmonious town, but also quite focused on itself and its own history" Ovchinnikov believes.
And this combination of regional pride and self-consciousness can be seen in many of the works exhibited in the museum's permanent collection, regardless of whether the form of the painting is abstract, realist, or naïve. While the theme of the city is a constant in the collection, Erarta has also spotted an opportunity to broaden the collection to works by artists from the regions, and includes, for example, an extensive holding of works by the prolific Soviet artist PetrGorban, from Stavropol. "We're trying to extend the collection to include what artists across Russia are doing. Last time we looked, the museum collection included works of artists from more than 20 towns across Russia," says Ovchinnikov. "Similarly, we've been working on bringing exhibitions from cities across the country - Samara, Perm, Novosibirsk, Krasnodar – to exhibit here in the museum. Next step will be exhibiting our collection in these cities."
The permanent collection may be characterized by regional pride, but there is also a lot of colour and humour too. Nikolai Kopeikin's elephants series replaces the figure of Peter the Great on horseback with a pachyderm in a take on Falconet's iconic Bronze Horseman statue, and Nikolai Sazhin's "Catherine II and her Favourites", presents a stylized version of the great monarch famed for her prodigious amorous appetite, alongside a list of her lovers and the amount of money she spent on them, in what may be a sly allusion to the excesses and whims of political authorities.
The museum has also created installations it calls U-Spaces, providing sensory and emotional experiences popular with children and adults alike, and has a regular programme of cultural and educational activities. "Part of the democratic concept of the museum is to help our visitors to find the artist within themselves. On our first anniversary we removed every single exhibit from the museum walls and replaced them with canvas on which visitors could create their own art. We had children, artists, businessmen, housewives, students, pensioners - in all over 700 works were created."
St Petersburg is also home to Banksy-supported art collective Voina (meaning 'War'), which has staged a number of sexually and politically provocative actions over the last few years designed to outrage. These included a kind of mass orgy in a Moscow museum, and the drawing of an enormous phallus on a drawbridge in front of the St Petersburg headquarters of the FSB, one of the KGB successor agencies. "The role of museums and museum curators is to turn artistic activities like these into statements which can be comprehended by a wide audience. We want our museum to be a part of a normal civil society to be built in Russia. I think all cultural institutions in Russia have a very important historical mission to help create that society."
Creating a contemporary art cluster in the city has not all been plain sailing, however. Novaya Gollandiya (New Holland) is a small island in a run-down neighbourhood of former factories and warehouses to the west of the center ripe for re-development. The island has a long history stretching back to the early 1700s, associated with ship-building and the nearby Admiralty. Its industrial and storage facilities never really recovered following serial bombardment during the Blockade, and by the 1970s it was already being mentioned as a possible location for redevelopment. After several false starts, Roman Abramovich's company Millhouse Capital has now been awarded the redevelopment contract, and Abramovich's wife Dasha Zhukova is seeking to repeat the success of her Moscow Garazh project with a multi-functional creative area which retains the historic buildings but adds a collection of cultural spaces and commercial infrastructure. But the saturation of the island bedrock is delaying development, and apart from one or two limited exhibitions and events it may be some time before the project can be fully realized.
On a more positive note, the State Hermitage Museum, grande dame of the St Petersburg's artistic institutions and one of the world's greatest museums, is working on a project it calls Hermitage 20/21 in which galleries of modern and contemporary art will be located in the recently acquired halls of the General Staff Building, opposite the Winter Palace on Palace Square. This represents something of a strategic shift for the Hermitage – although their extensive collection includes a large number of works by modernist greats including Picasso, Matisse, Malevich and Kandinsky, these artists have never been a priority for the museum. The collection will include sculpture and graphic arts, as well as video and new media.
Some in the city might feel threatened by such a strategic shift on the part of its anchor artistic institution, but not Ovchinnikov. "This development by the Hermitage will be mutually enriching. The task of new generations of museums, funds, and curators is to integrate our authentic Russian art into a wider contemporary context." He pauses, then repeats: "We are on a historical mission."